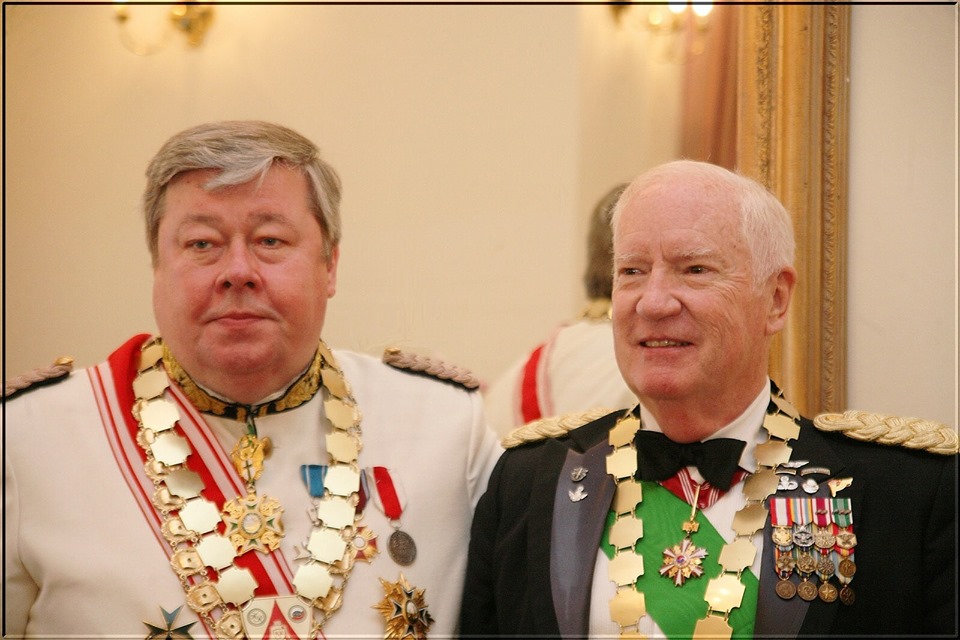 Royal Patron Prince Krzysztof Radziwill of Poland
3/11/20 (Español abajo) (Français ci-dessous)
Dear Honored Grand Priors and Grand Officers,
I am pleased to announce that Prince Krzysztof Radziwill is the third royal to consent to be a Royal Patron of our noble Order. Prince Radziwill is especially important to our Order because our last Grand Master General Antoine (Andrej) Zdrojewski, was a leader of the Polish Resistance Forces in France during the Second World War. In 1971 General Zdrojewski was elected Grand Master of the OSMTJ. He died in 1989 in France.
Krzysztof Konstanty Radziwill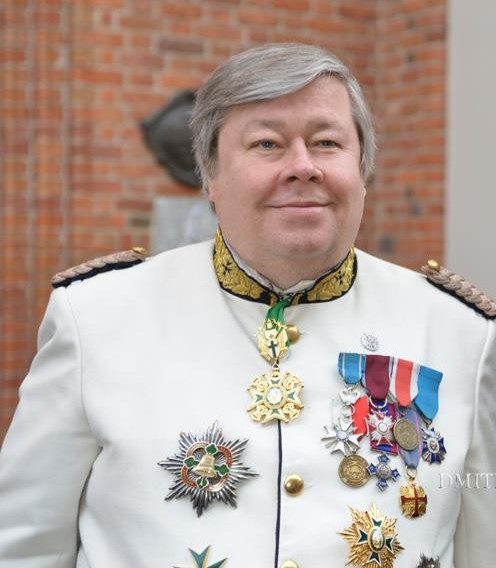 Prince Radziwill was born on December 18, 1958 in Sopot. Mother Jadwiga née Piotrowska, father Konstanty Radziwiłł, siblings Barbara born in 1961 in Gdańsk. Secondary technical education, until 1985 worked in various workplaces, often dismissed because of political views, from 1985 sought asylum in Germany. After the announcement of the fall of communism in Poland, returned to the country and worked in business. From 1999, was active in the Order of Saint Lazarus of Jerusalem. Belongs to the Association of the Bronze Bell Brotherhood in Krakow. Is a bachelor with many markings and medals.
Bóg nam radzi (The Lord is Our Counsel) is the famous family motto of one of the most prominent Polish aristocratic families of Lithuanian extraction-the Radziwiłłs. Looking back at its history, it is clear that, apart from Providence, it has been Radziwiłłs' notion of kinship and family solidarity that guided them throughout the often-turbulent Polish history. While other families prospered only for three, four generations, Radziwiłłs have not only kept their influential profile for over five hundred years, but have done so 'in style', acquiring and maintaining great wealth and influence until the beginning of World War II. This family has produced many outstanding politicians, military commanders, clergymen, cultural benefactors and entrepreneurs who left a significant mark on the Polish and Lithuanian history and culture .
In 1518, Holy Roman Emperor Maximilian I created Mikalojus Radvila's son, Mikołaj, Reichsfürst ("Imperial Prince") of Goniądz and Meteliai after the Jagiellonian-Habsburg congress at Vienna. Mikołaj Radziwiłł also received an expanded, more solemn coat of arms: as princes of the Holy Roman Empire, the Radziwiłłs bore a black eagle, on whose breast is a shield with Trąby and other emblems. The family motto is "God advises us" (Polish: Bóg nam radzi, Belarusian: Бог нам раіць, Boh nam rajić).
In 1547, Charles V, Holy Roman Emperor, created Mikołaj "the Black" and his brother, Jan, hereditary Reichsfürsten of Nesvizh and Olyka; their cousin Mikołaj "the Red" Radziwiłł was created Reichsfürst of Biržai and Dubingiai. The same year King Sigismund II Augustus of Poland married Barbara Radziwiłł and confirmed these titles in 1549. So high a title was rare among the szlachta (the Polish nobility): just five Polish families, including the Radziwiłłs, received the title of imperial prince from the Holy Roman emperor.
——- Español ——-
11/03/20
Estimados Honorables Grandes Priors y Grandes Oficiales,
Me complace anunciar que el Príncipe Krzysztof Radziwill es el tercer miembro de la realeza que consiente en ser un Patrón Real de nuestra noble Orden. El Príncipe Radziwill es especialmente importante para nuestra Orden porque nuestro último Gran Maestro General Antoine (Andrej) Zdrojewski, fue un líder de las Fuerzas de Resistencia Polacas en Francia durante la Segunda Guerra Mundial. En 1971, el general Zdrojewski fue elegido Gran Maestro de la OSMTJ. Murió en 1989 en Francia.
Krzysztof Konstanty Radziwill
El príncipe Radziwill nació el 18 de diciembre de 1958 en Sopot. Madre Jadwiga née Piotrowska, padre Konstanty Radziwiłł, hermanos Bárbara nacidos en 1961 en Gdansk. La educación técnica secundaria, hasta 1985 trabajó en varios lugares de trabajo, a menudo despedidos por opiniones políticas, desde 1985 solicitó asilo en Alemania. Después del anuncio de la caída del comunismo en Polonia, regresó al país y trabajó en los negocios. Desde 1999, estuvo activo en la Orden de San Lázaro de Jerusalén. Pertenece a la Asociación de la Hermandad de la Campana de Bronce en Cracovia. Es un soltero con muchas marcas y medallas.
Bóg nam radzi (El Señor es nuestro consejo) es el famoso lema familiar de una de las familias aristocráticas polacas más prominentes de la extracción lituana: los Radziwiłłs. Mirando hacia atrás en su historia, está claro que, aparte de Providence, ha sido la noción de parentesco y solidaridad familiar de Radziwiłs lo que los guió a lo largo de la turbulenta historia polaca. Mientras que otras familias prosperaron solo durante tres o cuatro generaciones, Radziwiłłs no solo ha mantenido su perfil influyente durante más de quinientos años, sino que lo ha hecho 'con estilo', adquiriendo y manteniendo una gran riqueza e influencia hasta el comienzo de la Segunda Guerra Mundial. Esta familia ha producido muchos políticos destacados, comandantes militares, clérigos, benefactores culturales y empresarios que dejaron una huella significativa en la historia y cultura polaca y lituana.
En 1518, el Sacro Emperador Romano Maximiliano I creó al hijo de Mikalojus Radvila, Mikołaj, Reichsfürst ("Príncipe Imperial") de Goniądz y Meteliai después del congreso Jagiellonian-Habsburg en Viena. Mikołaj Radziwiłł también recibió un escudo de armas ampliado y más solemne: como príncipes del Sacro Imperio Romano, los Radziwiłłs portaban un águila negra, en cuyo pecho hay un escudo con Trąby y otros emblemas. El lema de la familia es "Dios nos aconseja" (en polaco: Bóg nam radzi, bielorruso: Бог нам раіць, Boh nam rajić).
En 1547, Carlos V, Emperador del Sacro Imperio Romano, creó Mikołaj "el Negro" y su hermano, Jan, Reichsfürsten hereditario de Nesvizh y Olyka; su primo Mikołaj "el Rojo" Radziwiłł fue creado Reichsfürst de Biržai y Dubingiai. El mismo año, el rey Segismundo II Augusto de Polonia se casó con Barbara Radziwiłł y confirmó estos títulos en 1549. Un título tan alto era raro entre los szlachta (la nobleza polaca): solo cinco familias polacas, incluidos los Radziwiłłs, recibieron el título de príncipe imperial de El Sacro Emperador Romano.
—— Français ——
3/11/20
Chers Grands Prieurs et Grands Officiers,
J'ai le plaisir d'annoncer que le prince Krzysztof Radziwill est le troisième royal à consentir à être un patron royal de notre noble ordre. Le Prince Radziwill est particulièrement important pour notre Ordre car notre dernier Grand Maître Général Antoine (Andrej) Zdrojewski, était un chef des Forces de Résistance Polonaises en France pendant la Seconde Guerre mondiale. En 1971, le général Zdrojewski est élu Grand Maître de l'OSMTJ. Il est décédé en 1989 en France.
Krzysztof Konstanty Radziwill
Le prince Radziwill est né le 18 décembre 1958 à Sopot. Mère Jadwiga née Piotrowska, père Konstanty Radziwiłł, frères et sœurs Barbara née en 1961 à Gdańsk. L'enseignement technique secondaire, jusqu'en 1985, a travaillé dans divers lieux de travail, souvent licenciés en raison de vues politiques, à partir de 1985 a demandé l'asile en Allemagne. Après l'annonce de la chute du communisme en Pologne, est rentré au pays et a travaillé dans les affaires. À partir de 1999, a été actif dans l'Ordre de Saint Lazare de Jérusalem. Appartient à l'Association de la Confrérie de la Cloche de Bronze à Cracovie. Est un célibataire avec de nombreuses notes et médailles.
Bóg nam radzi (Le Seigneur est notre conseil) est la célèbre devise familiale de l'une des plus importantes familles aristocratiques polonaises d'origine lituanienne – les Radziwiłłs. En regardant son histoire, il est clair que, à part Providence, c'est la notion de parenté et de solidarité familiale de Radziwiłł qui les a guidés tout au long de l'histoire polonaise souvent turbulente. Alors que d'autres familles n'ont prospéré que pendant trois ou quatre générations, les Radziwiłs ont non seulement conservé leur profil influent pendant plus de cinq cents ans, mais l'ont fait " avec style ", acquérant et maintenant une grande richesse et une grande influence jusqu'au début de la Seconde Guerre mondiale. Cette famille a produit de nombreux politiciens, commandants militaires, ecclésiastiques, bienfaiteurs culturels et entrepreneurs exceptionnels qui ont laissé une marque significative dans l'histoire et la culture polonaise et lituanienne.
En 1518, l'empereur romain germanique Maximilien Ier créa le fils de Mikalojus Radvila, Mikołaj, Reichsfürst ("Prince impérial") de Goniądz et Meteliai après le congrès Jagiellonian-Habsburg à Vienne. Mikołaj Radziwiłł a également reçu un blason élargi et plus solennel: en tant que princes du Saint-Empire romain germanique, les Radziwiłs portaient un aigle noir, sur la poitrine duquel se trouve un bouclier avec Trąby et d'autres emblèmes. La devise de la famille est "Dieu nous conseille" (polonais: Bóg nam radzi, biélorusse: Бог нам раіць, Boh nam rajić).
En 1547, Charles V, empereur romain germanique, créa Mikołaj "le Noir" et son frère, Jan, Reichsfürsten héréditaire de Nesvizh et Olyka; leur cousin Mikołaj "le Rouge" Radziwiłł a été créé Reichsfürst de Biržai et Dubingiai. La même année, le roi Sigismond II Auguste de Pologne épousa Barbara Radziwiłł et confirma ces titres en 1549. Un titre si élevé était rare chez les szlachta (noblesse polonaise): seulement cinq familles polonaises, dont les Radziwiłłs, reçurent le titre de prince impérial de le Saint empereur romain.