———– Past Events ———-
Investiture of the Grand Priory of Poland, 28 November 2021
——————————————————————————————————————————————————-
Templars, We Invite You To The 2021 International Convent:
2021 International Convent
Castle Otttis, 103rd 3rd St
St, Augustine, FL 32084
October 1-3, 2021
AIRLINES
Airline name Distance Time Directions
Orlando International Airport 129 miles 2 hr 417N toll rd to 95N to FL-207N
(exit 311) follow 207N to Ponce
De Leon Blvd and A1A byway
to 3rd St in Vilano Beach
Jacksonville International Airport 56.6 miles 1hr 6 min 95S to FL 16E (exit 318) to A1A
then to 3rd st in Vilano Beach
Sanford International Airport 95.4 miles 1hr 44 min SR 415N to 95N then take FL
207 (exit 311) follow 207N to
Ponce De Leon Blvd and A1A
byway to 3rd St in Vilano
Beach
RENTAL CAR COMPANIES
RENTAL CAR AGENCY Name
Orlando International Airport Alamo, Sixt, Dollar, Avis, Enterprise, E-Z Rent, Hertz, VIP Cars, Thrifty,
Payless, Fox, Advantage, ACO, NU, HRV, Value, Easirent, Routes
Jacksonville International Airport Alamo, Thrifty, Enterprise, Easirent, Budget, Payless, Avis, Hertz
Sanford International Airport Alamo, Avis, Enterprise, Budget, Dollar, Hertz, One Car, 1st Car Rental,
Holiday Rental
HOTELS
Hampton Inn on Vilano Beach in St. Augustine
This hotel is right up the street from the Castle but isn't doing the reduced rates due to tourism and availability.
Rooms and Rates from Oct 1 to October 3rd do not include tax
1 King with patio $253 per night
1 King Suite with Sofabed and ground floor $296 per night
1 King Ocean View with Balcony $315 per night
2 Queens with City view $253 per night
https://www.hilton.com/en/book/reservation/rooms/?ctyhocn=SGJVBHX&arrivalDate=2021-10-01&departureDate=2021-10-03&room1NumAdults=1&brandCode=HP&inputModule=HOTEL_SEARCH&ohwDeepLinking=true
These are other hotels in the area that may be more affordable for some, it will not allow me to save the dates and the venue address so you may want to add that info in the link below to get an idea on hotels.
https://www.trivago.com/st-augustine-61626/hotel
St. Augustine Hotels | Find & compare great deals on TrivagoCompare the prices of 4661 hotels in St. Augustine, USA. Find your ideal accommodation from hundreds of great deals and save with trivago.com
WIRELESS FIDELITY-WIFI
Prior Mora will try to secure a WIFI Hotspot for use at the castle and if unable to then he will order a hotspot for the Conclave weekend and will follow up on this to make sure it is secured for that weekend.
Sightseeing things to do in St. Augustine
The Link below will show various things to do while in St. Augustine and even attend the beach if the weather permits. St. Augustine is the Oldest City in America with many historical sites and churches. Don't forget to visit the Fountain of Youth for your drink.
St. Augustine & Ponte Vedra, FL Travel Guide | Florida's Historic Coast
St. Augustine & Ponte Vedra, FL Travel Guide | Florida's Historic CoastFind things to do on Florida's Historic Coast, including must-see historic sites and attractions, annual events, and where to stay, plus information to help plan your visit.
Local Church for Sunday
Memorial Presbyterian
32 Sevilla St. St Augustine, FL 32084
11:00 AM service time….suggest being there no later than 10:15-10:30 due to parking concerns.
Cathedral Basilica of St. Augustine
38 Cathedral Pl, St. Augustine, FL 32084
Mass Times: 7:00Am, 9:00AM, 11:00Am and 5:00PM
RESTAURANTS
Restaurant for Friday night October 1, 2021
The Columbia Restaurant has accepted our reservation for 25 members so no need for a room and if there are more we need to let them know as soon as we know who all will be attending, I imagine the dinner for Friday will be for Leadership and Saturday for all others attending that want to have dinner.
Columbia Restaurant
98 St George St,
St. Augustine, FL 32084
(904) 824-3341
Reservation for 6:00 PM under OSMTJ
https://www.columbiarestaurant.com/The-Columbia-Experience/Groups-and-Catering/St-Augustine>>
Restaurant for Saturday Evening October 2, 2021
This restaurant is about a mile from the castle and we have secured reservations for up to 25 and again if there are more attending, we can request the use of the room they have as soon as we know who all will be attending.
The Reef Restaurant
4100 Coastal Hwy,
St. Augustine, FL 32084
(904) 824-8008
Reservation for 6:30 pm under OSMTJ
CHAPLAIN
Brother Michael Horton will perform as our Chaplain and if Brother Eddie Rivero is needed he is also available
SATURDAY AGENDA
This is a business meeting. Should begin at 10:00 AM, 1-hour break for lunch, ending around 15:00, 30 minutes to change to uniforms/mantles, wrap up no later than 17:30 to leave time for clean up
10:00 Welcome and business meeting
Discussions re: Statutes/Rules/Manual
Other business
12:00 Lunch Break
13:00 Business meeting
Claussen history of the Order
Ainsworth
Leppard OSMTJ College of Heraldry
Reports from Magistral Legates, the status of Grand Priories, charitable activities
15:00 Break to change to Mantles
15:30 Installation/investitures/promotions with short religious service
17:00 Wrap up/summaries
17:30 Dispersal
18:00 Dinner
* PROMOTIONS
There will be a few promotions on Saturday and the Grand Master will preside over all of them
—————————————————————————————————————————————
Please join us at this year's OSMTJ International Convent in Norway August 21st – 23rd.
You're also invited to our United States Annual Convent October 23rd – 25th at the Compound owned by the OSMTJ, Christ Castle Church in Connecticut, USA.
For more info or to RSVP please email: info(at)OSMTJ.net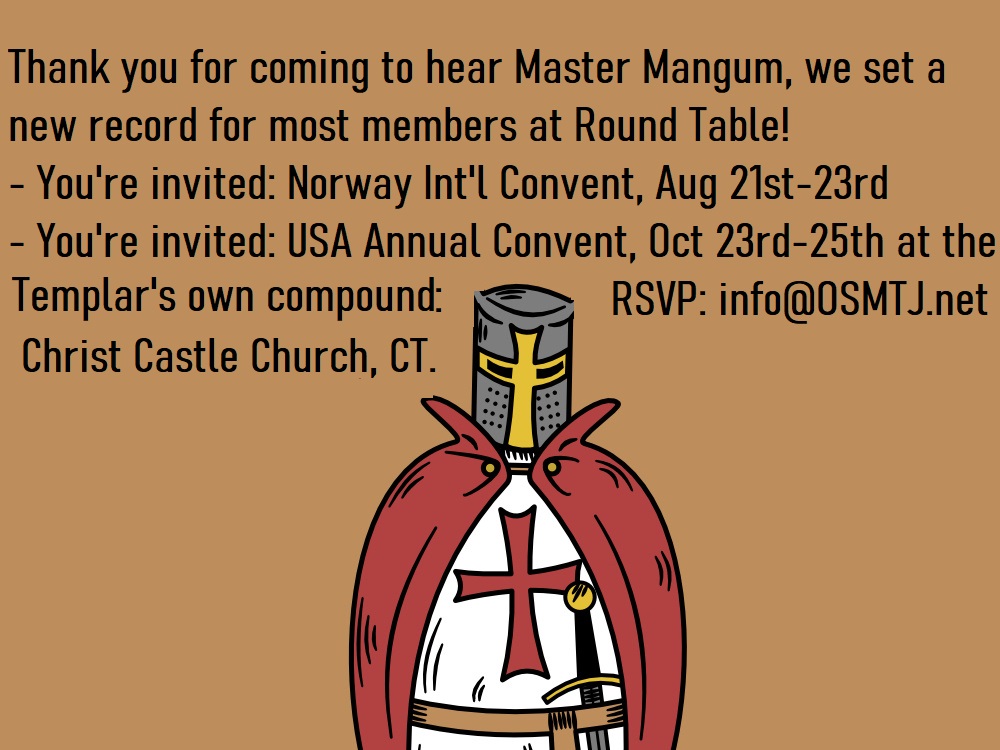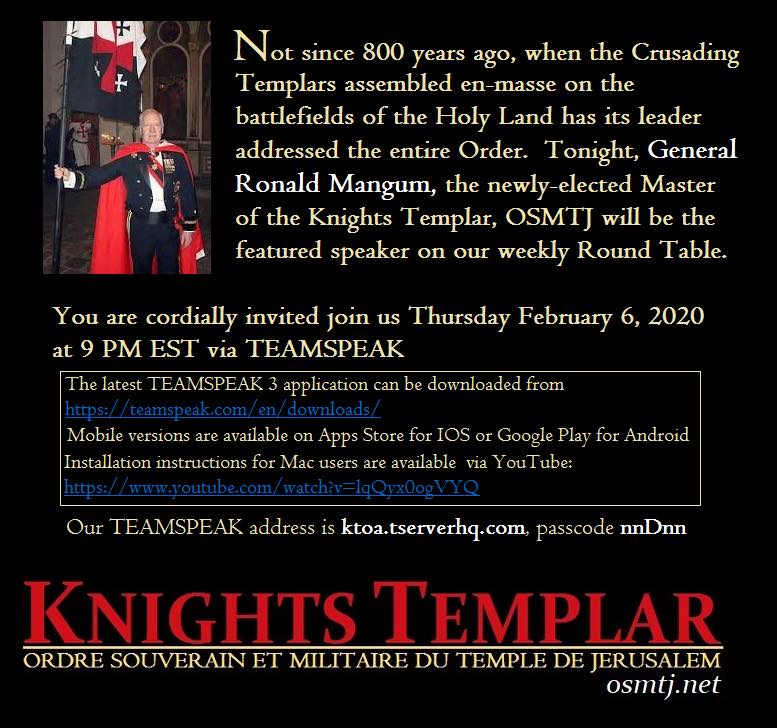 Join Us For Round Table Tonight 9pm E.S.T. / 2am greenwich mean time! Tonight's Round Table Discussion features our Master of the Order General Ronald Mangum who will talk about the plans and goals for the future of our Order.
Voice Chat Live With Templars Every Thursday 9pm EST/ 2am greenwich mean time. Download: http://www.teamspeak.com/?page=downloads for free. Team speak IP address: vs20.tserverhq.com:port=9455Password: nnDnn
———————— Español —————–
Únase a nosotros para la mesa redonda de esta noche 9pm E.S.T. / 2am hora de Greenwich! La discusión de la mesa redonda de esta noche presenta a nuestro Maestro de la Orden, general Ronald Mangum, quien hablará sobre los planes y objetivos para el futuro de nuestra Orden.
Chat de voz en vivo con templarios Todos los jueves a las 9 p.m. EST / 2 a.m. hora del greenwich. Descargar: http://www.teamspeak.com/?page=downloads gratis. El equipo habla la dirección IP: vs20.tserverhq.com:port=9455Contraseña: nnDnn
Grand Priory of Scotland, Festival of St. Andrew's & International Convention (Nov. 27th-29th 2015)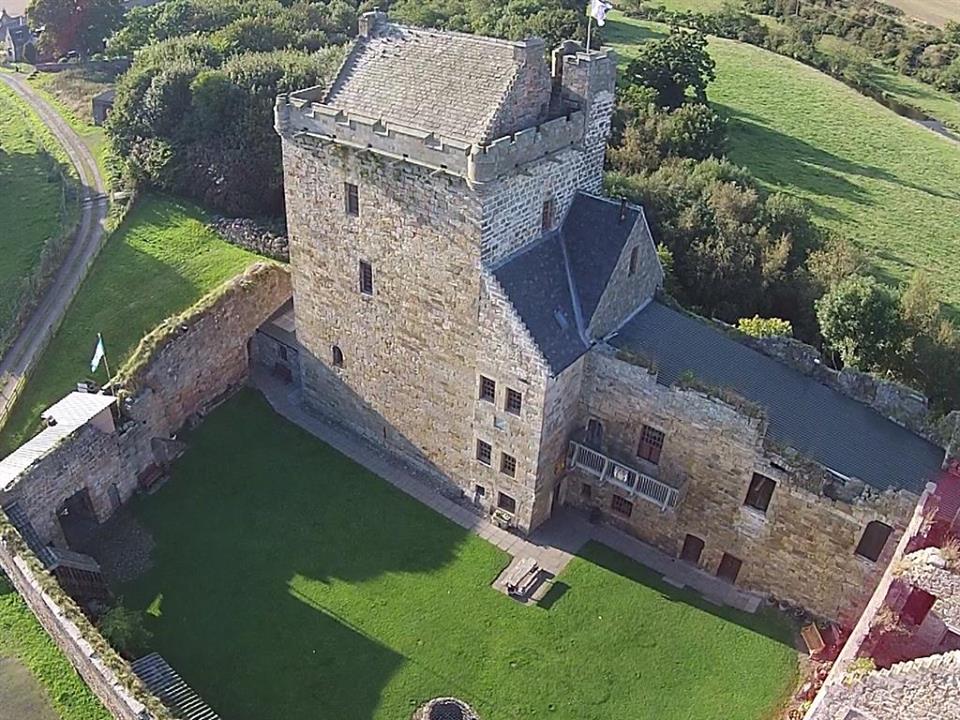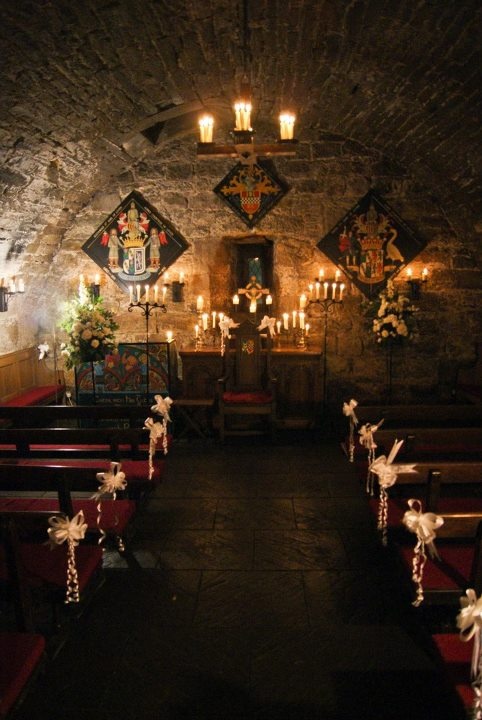 O.S.M.T.J. GRAND PRIORY OF SCOTLAND (Ordre Souverain et Militaire du Temple de Jérusalem)
Dear Members of Chivalry,
Announcing an International St Andrews Convention in Scotland on November 28th, 2015.
–
Location: Beautiful Dundee, Scotland. Haven't been Knighted yet? Why not do it in a 14th centuary Scottish Castle!
–
Location: Balgonie Castle Fife
Accommodation To Be Arranged
Formal Dinner Location: In the Grand Banqueting Hall in the Main Tower
World famous Rosslyn Chapel – On Sunday we will visit the mysterious Rosslyn Chapel to investigate the Templar secrets for ourselves.
Based on the attendance of 35 people the total cost (excluding accommodation) would be £50 for a Knight and £35 for a non knight. The ticket cost includes transport from the hotel to the church and return.
–
The room rate at the hotel is the same as last year £50 per room inc breakfast.(To be Confirmed)
Dinner is a sit down 3 course meal with vegetarian option, with tea and coffee.
Please arrive on the Friday
Friday Meet and Mingle and Registration in Hotel.

Attending & for more info or to register, please email: info@OSMTJ.net

=========================

Investiture at Fortress by the Sea
The Investiture for Florida will take place Saturday February 28, 2015 at 3:30PM at Castle OTTTIS just north of St Augustine, Florida. The Castle and Abbey is a reproduction of a 1000 year old Castle in Ireland. A few slots are still available. The Cost is 125.00 per Aspirant. Each Knight will receive the Accolade, Communion, a Letter Patent of Investiture, appropriate decoration and an 8×10 color picture of them receiving the accolade. Hotel accommodations are available at an excellent oceanfront hotel at additional cost. This is a once in a lifetime event for a Knight Templar. The receiving of the Accolade happens only once in your life as a Knight.  We look forward to seeing you there!
For more info, email: info@TheKnightsTemplar.org
Read more about Castle OTTTIS: http://www.castleotttis.com/otttishistory.htm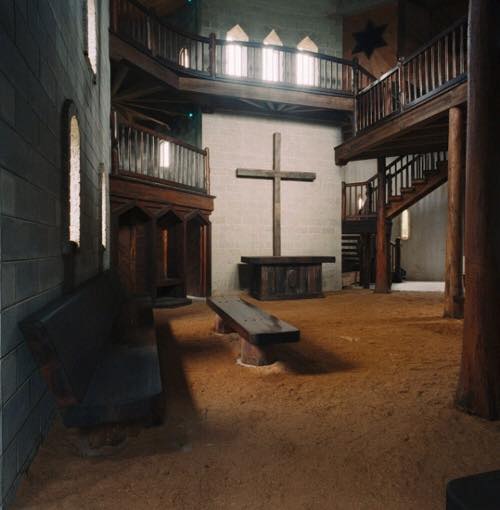 ========================================================
2016 OSMTJ International Conclave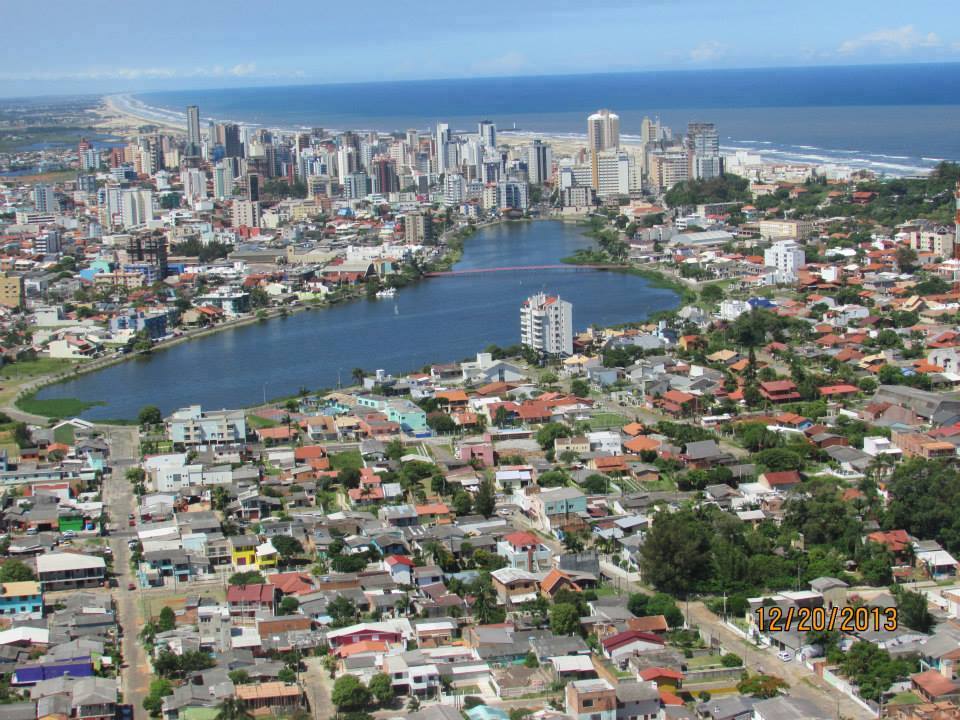 November 2014 – The OSMTJ International Conclave will meet for a long weekend, Friday – Sunday, in Torres, Brazil.  Right on the beach, Torres is incredibly beautiful with many things to do for those that want to extend their stay into a vacation: http://www.tripadvisor.com/Tourism-g303553-Torres_State_of_Rio_Grande_do_Sul-Vacations.html
—————————————————————————————- 
International OSMTJ Conclave – Italy
ANNOUNCEMET:  Our Regent has set the next OSMTJ International Conclave to meet in Faicchio, Italy in October, 2014 (Faicchio is a comune (municipality) in the Province of Benevento).  All are invited and we ask that you simply email: info@OSMTJ.net if you intend to come so we can send a final count.
If you want to be knighted, please let us know by emailing info@OSMTJ.net.   Those who are Knighted receive a beautiful certificate.  There is a fee for the Knighting and all the details can be addressed via email.
==========================================================
ANNOUNCEMENT from Our Regent: You are all invited to a special OSMTJ Conclave in Brussels, Belgium, Friday, July 25th at 5pm,  and Saturday July 26th at 11am.  If  you are interested in coming, please send an email to info@OSMTJ.net so we can send a count.  If you want to be knighted, please let us know by emailing info@OSMTJ.net.   Those who are Knighted receive a beautiful certificate.
Excellencies, my lords,
His Excellency the Regent of the Sovereign Military Order of the Temple of Jerusalem decided to convene an Extraordinary Chapter Magistral to Brussels. The Conclave will be held in July between 25 and 31. You are warmly invited to attend. Timing and agenda of this chapter will be submitted by the Secretary Services Minister Magistral. With my Fraternal Greetings, Non Nobis …