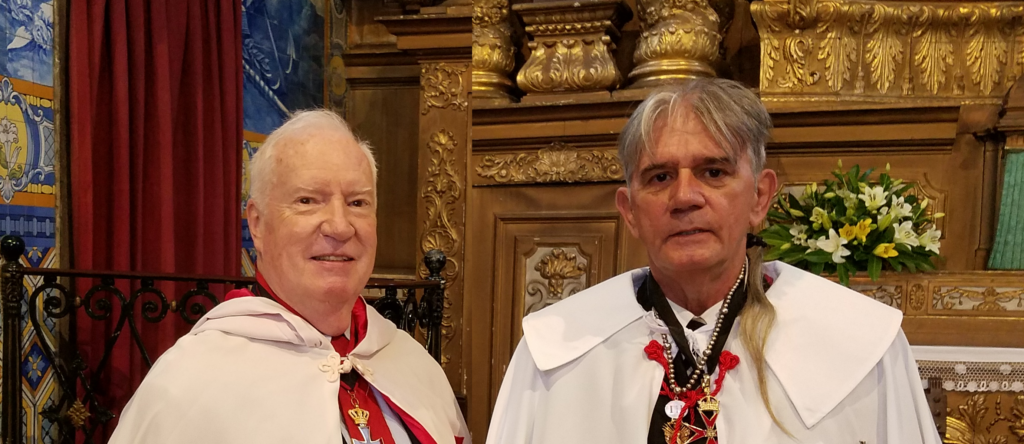 Dear Templar Brothers and Sisters,
I have promised to establish bridges to the Other Templar obediences, and I have just received the following message from Brother Dom Albino Neves, the Master of the OSMTHMM. I look forward to working with Dom Albino to make our Order stronger.
Ronald S. Mangum, Master, OSMTJ
———————– From Grand Master Albino Neves ———————–
"Dear Brother Master of OSMTHJ Brigadier General Ronald Mangum,
I recently learned from members of our Council about the attacks suffered by you our noble Brother, incoherently and inconsistently made by people who do not deserve credibility, since their works are insignificant and do not represent a fraction of the works carried out and developed by Brother Ronald throughout his professional and military life and as a Knight of the Order of the Temple.
We at OSMTH Magnum Magisterium hereby present our solidarity with Brother
Mangum, who has long kept side by side in the ranks of the Temple. We believe that man is not what he claims to be but is known by the works he performs. It is common for mediocre men to criticize the works of others, as this is their way of making themselves appear greater. In Brazil it is said that "dogs bark and the caravan passes" and I can assure you that we have found this to be true over time. As the First non-European OSMTH Magnum Magisterium Grand Master in 900 years, I felt the first moments the dissatisfaction of some even before the death of Grand Master Dom Fernando de Sousa Fontes (in memoriam), who were already cheating, showing infidelity and lack of character and that, even without having works to be presented they thought it was their right to challenge my legal right. However, I felt and feel much more the satisfaction of many who know the works done by me and recognize that my ability to manage the Order speaks for itself. "It is not the habit that makes the monk, but the monk that makes the habit".
The actions and achievements of the noble Brother Master Ronald Mangum speak for themselves and are not the gimmicks adopted by twisted minds who shout in desperation to see their claims to try to reach a step far beyond their capacities which will undermine your works. The command of an institution like OSMTHJ cannot just represent the rise of status and the personal aggrandizement of anyone. Those who really respect the values built for themselves throughout their lives and who know and respect the Templar Code, the Seven Virtues of a Knight Templar and the St. Bernard Rules know that position represents a burden, which weighs on his shoulders.
In view of this presentation, I inform Brother and Master Ronald Mangum that for all that Brother has done and does in favor of the Order and its constituent principles your
OSMTH Magnum Magisterium brothers are with you in everything that does not violate our statutory principles.
Together we are stronger!
NNDNNSNTDG,
FTAT,
Your Brother Grand Master Dom Albino Neves"
Español
Queridos hermanos y hermanas templarios:
Prometí establecer puentes a las otras obediencias templarias, y acabo de recibir el siguiente mensaje del hermano Dom Albino Neves, el maestro de la OSMTHMM. Espero con interés trabajar con Dom Albino para fortalecer nuestra Orden.
Ronald S. Mangum, Maestro, OSMTJ
———————– Del Gran Maestro Albino Neves ———————–
"Querido hermano maestro del general de brigada de OSMTHJ, Ronald Mangum,
Recientemente, los miembros de nuestro Consejo me enteré de los ataques que sufrió usted, nuestro noble hermano, incoherente e inconsistentemente realizado por personas que no merecen credibilidad, ya que sus trabajos son insignificantes y no representan una fracción de los trabajos realizados y desarrollados por el hermano. Ronald a lo largo de su vida profesional y militar y como Caballero de la Orden del Templo.
Nosotros en el Magisterio OSMTH Magnum presentamos nuestra solidaridad con el Hermano
Mangum, que durante mucho tiempo se ha mantenido al lado de las filas del Templo. Creemos que el hombre no es lo que dice ser, sino que es conocido por los trabajos que realiza. Es común que los hombres mediocres critiquen las obras de otros, ya que esta es su forma de hacerse parecer más grande. En Brasil se dice que "los perros ladran y la caravana pasa" y puedo asegurarles que hemos encontrado que esto es cierto con el tiempo. Como primer Gran Maestro de Magisterio OSMTH no europeo en 900 años, sentí los primeros momentos la insatisfacción de algunos incluso antes de la muerte del Gran Maestro Dom Fernando de Sousa Fontes (in memoriam), que ya estaba haciendo trampa, mostrando infidelidad y falta de carácter y que, incluso sin tener que presentar obras, pensaron que era su derecho desafiar mi derecho legal. Sin embargo, sentí y siento mucho más la satisfacción de muchos que conocen los trabajos realizados por mí y reconocen que mi capacidad para administrar la Orden habla por sí misma. "No es el hábito lo que hace al monje, sino el monje lo que hace el hábito".
Las acciones y los logros del noble Hermano Maestro Ronald Mangum hablan por sí mismos y no son los trucos adoptados por mentes retorcidas que gritan con desesperación al ver sus reclamos de tratar de llegar un paso más allá de sus capacidades que socavarán sus obras. El comando de una institución como OSMTHJ no puede representar simplemente el aumento de estatus y el engrandecimiento personal de nadie. Aquellos que realmente respetan los valores construidos por ellos mismos a lo largo de sus vidas y que conocen y respetan el Código Templario, las Siete Virtudes de un Caballero Templario y las Reglas de San Bernardo saben que la posición representa una carga que pesa sobre sus hombros.
En vista de esta presentación, informo al Hermano y al Maestro Ronald Mangum que, por todo lo que el Hermano ha hecho y hace a favor de la Orden y sus principios constitutivos, su
Los hermanos OSMTH Magnum Magisterium están con ustedes en todo lo que no viole nuestros principios legales.
¡Juntos somos fuertes!
NNDNNSNTDG,
FTAT
Su hermano Gran Maestro Dom Albino Neves "
Send feedback
History
Saved
Community